No plans for Halloween? No problem!
Grab a pizza and your posse and curl up with my top pick of Halloween-themed films, minus the horror.
For those of us, like myself, who break into cold sweats at the mere mention of the words 'horror film', Halloween films can be a minefield of jump scare after jump scare. I know the feeling: you want to get into the spirit of the season, but also want to be able to sleep at night instead of obsessing about who (or what) could be hiding under your bed, or in your wardrobe. Or, perhaps you want to celebrate Halloween without going to a party, especially when you know there will be living incarnations of your worst nightmares and prefer, instead, to snuggle up on the sofa with a film and a big bowl of popcorn. Fear not, the solution is here.
We, meaning me, have created a list of non-horror Halloween films for your viewing pleasure, compiling some much loved classics with more recent additions to the spooky side of cinema. And, to make your life easier, they're listed from least spooky – children could watch this – to most spooky – probably shouldn't watch this on your own.
So grab your blankets, light your pumpkins and get into the spirit of Halloween.
Hocus Pocus (1993)
First on the list is one of the most popular and widely loved Halloween films ever made. Featuring the likes of Bette Midler (First Wives Club), Kathy Najimy (Sister Act) and Sarah Jessica Parker (Sex and the City), Hocus Pocus was a film destined to succeed from the very beginning and is still close to many people's hearts.
The Disney classic is about three witch sisters who are accidentally resurrected on the night of Halloween, 300 years after their death, and it falls on the shoulders of three neighbourhood kids to stop their plan and return them to the grave.
With a talking cat, a sassy little sister and a rendition of Screaming Jay Hawkins' 'I Put A Spell on You' that will plague your head for days, it's hard not to love this Halloween staple.
The Nightmare Before Christmas (1993)
The next film on this list combines the creepiness and ingenuity of Tim Burton with the animation and feel-good factor of Disney, creating a film for both Halloween and Christmas. The Nightmare Before Christmas is a firm favourite amongst all ages and follows the discoveries of Jack Skellington, the Pumpkin King, as he finds Christmas and tries to make his spooky home of Halloweentown a little more festive. It's safe to say that it doesn't quite go to plan…
With a sensational range of characters, the cutest ghost dog you will ever see and some merry musical interludes, it's a great film to kick back and relax in front of on a cold October evening.
The Addams Family (1991) and Addams Family Values (1993)
"They're creepy and they're kooky, mysterious and spooky, they're all together ooky, The Addams Family." They're also timeless and classic and their films are still able to bring laughter, joy and sometimes fright to a wide range of audiences. Their appealing visuals, confrontations with con-artists and general spookiness have won them an adoration that is often overlooked.
Both The Addams Family and Addams Family Values are devilishly fun, with some snappy one liners and uncanny recreations of the original cartoons by Charles Addams. They are definitely worth a watch, especially at Halloween, and you might even get some fancy dress ideas in the process.
Dark Shadows (2012)
Dark Shadows is the next film in this ever-growing spookfest and is the most modern of those featured in this list. Directed by Tim Burton, and starring Johnny Depp (Pirates of the Caribbean) and Helena Bonham Carter (Harry Potter series), the film tells the tale of the cursed vampire Barnabas Collins and his return to his ancestral home after being buried for 196 years. He emerges in the 70's and tries to come to terms with his surroundings, all while attempting to protect his foolish descendants and get revenge on the witch who started it all.
Although not exactly considered one of Tim Burton's best, or a Halloween film, it's playful and light-hearted, with great visuals and comedic creepiness flowing through. If you're at a loss for what to watch, get your teeth into this one – it's hard not to dig it.
The Witches (1990)
The next film on this list follows the witch theme, although technically is not quite a Halloween film. Roald Dahl's The Witches is a fantastic book to movie adaptation, capturing the shock factor and creepiness of the original story with an entertaining cast and jaw-dropping practical effect transformations.
Starring Angelica Houston (The Royal Tenenbaums, The Addams Family), The Witches follows a boy and his grandma, who unwittingly end up in the same hotel as a secret witches' convention. Thrills and chills ensue as the pair try to stop the witches from succeeding with their evil plot to rid England of children, with plenty of obstacles in their way.
The Witches is a great film on just the right side of uncomfortable creepiness. It expresses Dahl's own take on witchcraft and houses a great plot punctuated with sinister irony. This forgotten gem is one not to be missed and will have you squealing in shock.
Beetlejuice (1988)
Uncomfortable creepiness brings us to our next humbug-striped star. Tim Burton's Oscar-winning Beetlejuice is an '80's cult classic that no-one can forget about. With Michael Keaton in the title role of Betelgeuse and Winona Ryder as Lydia Deetz, the film is adored by many, especially around Halloween.
The plot centres around Barbara and Adam Maitland, who become ghosts after a car accident and find they are trapped haunting their own house. The problems begin when new family, the Deetzes, move in and begin re-decorating, tampering with the ghosts resting place. After multiple attempts by Barbara and Adam Maitland to spook the family out, they turn to the weird, repulsive and downright disgusting Beetlejuice, a 'human exorcist', to help them. If they thought they had problems before, it was nothing compared to what's to come. It soon lands on the shoulders of the undead to save the living from the catastrophe that is Beetlejuice.
The film is imaginative, wickedly delightful and all-around creepy – perfect for the Halloween season. "Just turn on the juice and see what shakes loose", you never know, it might just make your millennium.
Sweeney Todd: Demon Barber of Fleet Street (2007)
The last film on this list combines the direction of Tim Burton with catchy show-tunes and a haunting story. Sweeney Todd: Demon Barber of Fleet Street tells the tale of ex-convict Sweeney Todd and pie shop owner, Mrs Lovett, who gained historical fame for their inventive ways of serving meat pies when meat was hard to come by. With Johnny Depp in the title role and Helena Bonham Carter supporting, the film more graphic than any of the other films featured on this list, so approach with caution, but the fairly regular musical numbers supress the 'scare' factor.
Again, as many others have been, this isn't strictly a Halloween film, although murderers and accidental cannibals (#spoilers) do fit with the theme of the month. It's killer costumes and bloody ballads will have you captivated in no time, but make sure you don't watch this one alone.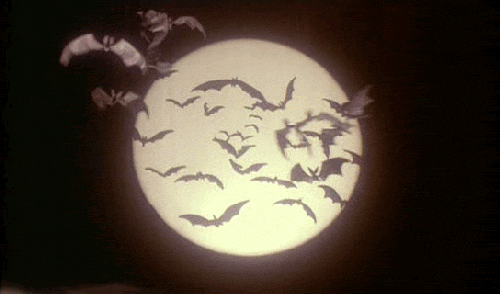 And that brings this creepy film catalogue to an end. Hopefully, you've found a film that takes your fancy, and are settled down and plugged in ready to watch, with the knowledge that you'll definitely be sleeping this evening.
Whether you're out celebrating the spookiest the day of year, or getting chills from one of these movies, I hope you have a haunting (and only slightly horrific) Halloween!